Full Line of Advanced Surface Treatments
TS NCT offers the firearms industry one of the most complete ranges of advanced surface treatments available to enhance the performance of your products. As technology advances, the need for improved performance and reliability has never been higher. TS NCT's advanced surface treatments provide manufacturers with options that can be matched to your specific performance requirement. As an ISO 9001/2015 and AS 9100-certified supplier, we have implemented the most up-to date quality standards and practices available.
With our wide selection of advanced surface finishes, firearms manufacturers can match the surface treatment to their requirements with surface treatment options not previously available from one supplier, to achieve unprecedented performance gains. Improve your firearms' wear resistance, corrosion resistance, erosion resistance, sliding friction and everyday durability by utilizing one of TS NCT's advanced surface treatments.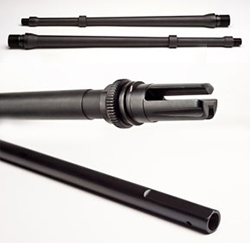 Diffusion Treatments
Our Melonite® QPQ process is recognized as the premier salt bath liquid ferritic nitrocarburizing process available to the firearms market. This process will impart a wear-resistant, corrosion-resistant diffused case that will improve the performance of your product, providing enhanced performance gains vs. conventional phosphating or black oxide surface treatments. Rifle barrels processed by TS NCT have reliably provided consistent performance for extended round counts when compared to chrome-lined barrels
Careful control of our bath chemistry ensures that our customers consistently receive the highest quality, most uniform case-hardened layers available, each and every time their product is processed. Whether you have developed your own specification or follow AMS 2753D, TS NCT can meet your requirements.
In addition, our extensive finishing department has all the equipment and processes to meet your needs, whether you require a matte, satin or polished finish.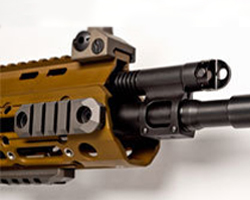 Testing
Firearm parts processed by TS NCT have seen hundreds of thousands cycles in real-world environments and provided reliable, consistent performance each and every time. Extensive testing has proven that our Certess Carbon and Melonite® salt bath liquid ferritic nitrocarburizing processes reduce wear and allow components to run with lower sliding friction. Our Melonite® QPQ process will improve the corrosion-resistance of steel alloys more effectively than traditional phosphating or black-oxide surface treatments. Firearms manufacturers can improve wear-resistance, erosion protection, corrosion protection and receive a uniform black finish using one of our advanced surface treatment options.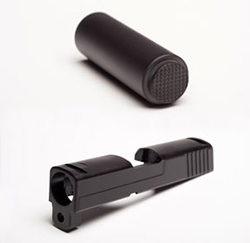 DLC Coating
If a diffusion treatment is not the preferred choice for your components, TS NCT offers a DLC (diamond-like carbon) coating that can be applied to a wide variety of materials and provides exceptional performance gains. Our Certess DLC coating yields a very low sliding friction and increased surface hardness with no diffusion into the parent material. Our state-of-the-art equipment with patented technology produces some of the highest quality DLC coatings available at very low deposition temperatures. Because it is a surface coating, it does not change the properties of the base metal and is sometimes the preferred choice for stainless alloys. With a surface hardness of 2500– 3000 vickers, our diamond-like carbon coating will improve the wear-resistance of your product.
For moving components, the exceptional low sliding friction provided by DLC coatings will improve the performance of your product even in situations where lubrication is minimal.
When DLC coatings are deposited onto the surface of a component, the DLC will replicate the surface finish present on your component. If you desire a matte finish, polished finish or something in between, your product can be finished prior to coating with the confidence that your targeted finish will not be degraded.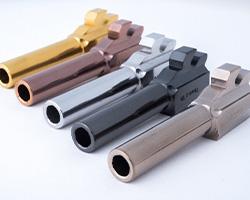 PVD Coatings
We offer a wide range of PVD coatings for firearms in matte or polished finishes. Rose copper, Gold, Silver, Tan, Coyote or Bronze are a few of the custom coating options we offer our customers for their firearm components. If you have a requirement for a specialty coating, whether TiN, AlTiN or TiCN, one of our PVD coatings